INTRODUCTION
We all are stuck in this particular situation whenever dealing with a very lengthy report.
The situation is regarding the HEADING or TITLES of the columns of the report. We need to scroll up and down again and again to have a look at it. So we freeze the panes to get rid of this problem.
But, what about the prints of the report. Freezing panes is not the solution for a printed report. So to print the headings or any specific line on every printed page we have got this option known as PRINTING TITLES in EXCEL.
PRINTING TITLE OPTION GIVES THE OPTION OF REPEATING ANY ROW OR COLUMN ON EVERY PRINTED PAGE.
IT IS HELPFUL IN THE SITUATION WHEN THE REPORT IS VERY LARGE AND WE NEED TO REPEAT THE HEADING ON EVERY PAGE.
In this article we'll learn about the procedure of printing the titles in Excel.
BUTTON LOCATION FOR PRINTING TITLES IN EXCEL
The button for printing titles is located under the
PAGE LAYOUT TAB> PAGE SETUP SECTION
The location is shown below.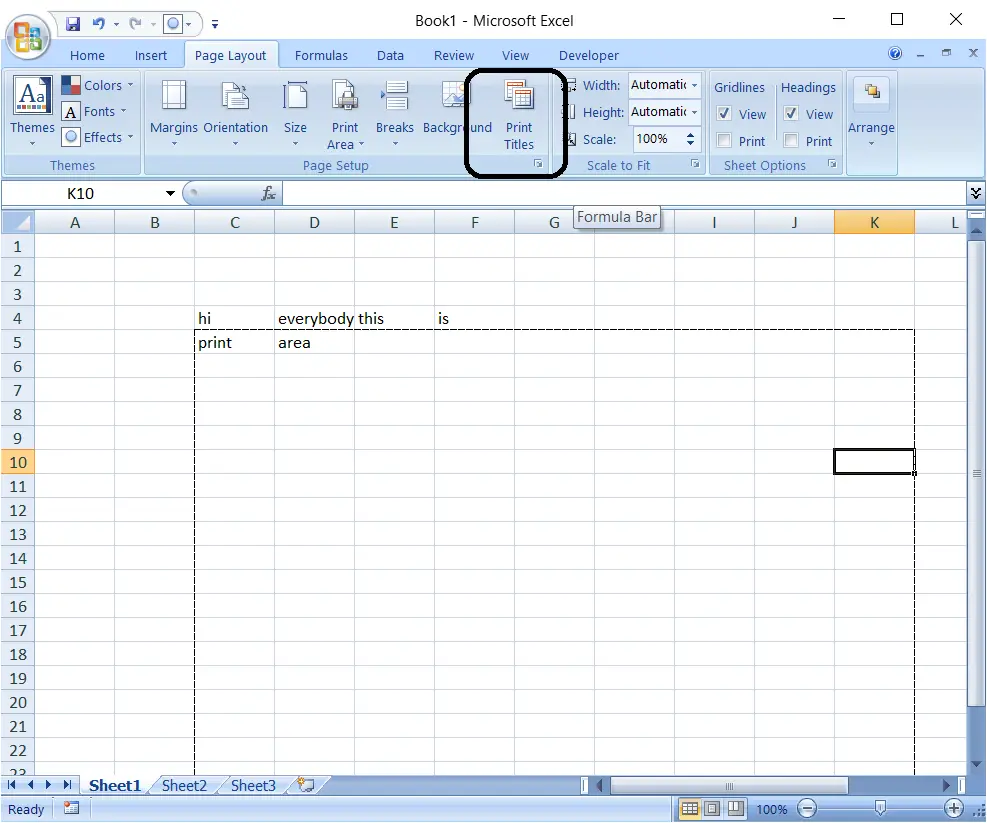 STEPS TO PRINT TITLES IN EXCEL
The following steps are to be followed to print titles in EXCEL.
REFER PICTURE: BELOW
STEPS:
Click PRINT TITLES.
Look at the picture below and study it. A lot of information has been given in the picture itself.
Enter the print area. It can be selected by clicking the right icon as shown and then selecting the complete printing area.
Select the row to be repeated in the mentioned field. It can also be selected by mouse or directly entering the address of the row. $4:$4 means the complete row 4.
Select the column to be repeated if needed. It can be selected by mouse or directly by entering the address of the coulmn. $b:$b means the complete B column.
There are a few more options which are self explanatory. e.g. If you want to print GRIDLINES or not, BLACK and WHITE or colored, HEADING to be printed or not etc.
Click PRINT.