Table of Contents
INTRODUCTION
These days we use many communication applications such as whatsapp, telegram and countless other options from our mobile phones. This development created lot many situations due to the bulk of the messages every person handles these days daily.
Out of these situations, one very bad problem emerges when we send a messages to somebody by mistake. For this issue, many applications introduced the options like DELETE FOR EVERYONE in Whatsapp and other options, or unsend option in TigerText app etc.
In our PC or specifically , the email, this functionality has been recently introduced and give us some time to recall an email after you have send it. [ Although there are some conditions discussed later].
So, in this article, we'll learn different ways, conditions and other information about the recalling of a sent email in MS Outlook.


WHAT IS OUTLOOK?
Microsoft Outlook is pretty famous application to send and received mails. It offers many additional options like formatting the emails, calendar options and plethora of various other controls over your email.
It can be termed as an email environment offered by Microsoft.
So, for our purpose, i.e. recalling an email , we need to have this application installed in our systems or pc.


WHAT IS AN EMAIL RECALLING OPTION IN OUTLOOK?
Recalling means to bring something back. Similarly recalling an email means to bring it back after you have already said it. By the phrase " Bring it back " can be compared like deleting it from the recipients email box.
Recall option in outlook is the one which lets us unsend the email which we have already sent.
HOW TO RECALL AN EMAIL IN OUTLOOK?
For this, follow the given steps.
Go to the SENT FOLDER.
Search for the email which you want to recall.
Double Click the email you sent.
DON'T JUST SELECT BUT DOUBLE CLICK TO OPEN THE EMAIL.
When we open the sent email, Message Tab will open with various option.
If the OUTLOOK is showing the CLASSIC RIBBON:

Go to MESSAGE TAB which will open by default. Go to MOVE section and click ACTIONS as shown in the picture below.
Go to option RECALL THIS MESSAGE as shown in the picture below.



If the OUTLOOK is showing the SIMPLIFIED RIBBON:

Go to MESSAGE TAB which will open by default. Go to MORE COMMANDS which is shown as Three Dots at the rightmost portion of the window.
Go to ACTIONS >RECALL THIS MESSAGE as shown in the picture below.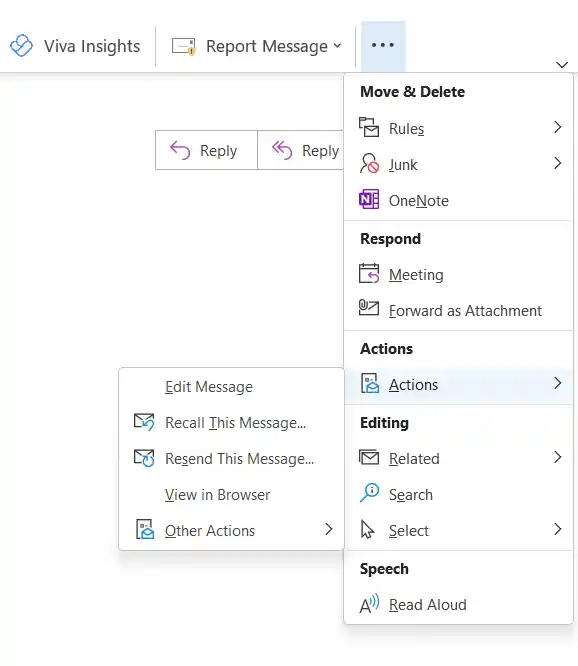 As you choose RECALL THIS MESSAGE , a new popup window will open as shown in the picture below.
You'll find two options

Delete unread copies of this message: Delete the sent message from the recipient's inbox.
Delete unread copies and replace with a new message: Choose this message if you want to replace the older email with the new one. If you choose this option, a new window will be opened to create a mail. Create this mail and send it. It'll replace the old one.
Check TELL ME IF RECALL SUCCEEDS OR FAILS FOR EACH RECIPIENT if you want a confirmation and uncheck if not.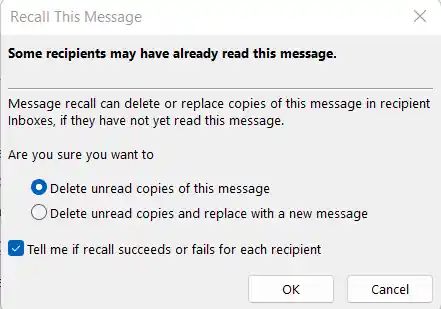 FAQs
CAN I RECALL ANY SENT MAIL IN OUTLOOK?
No, you can't recall just any mail you sent on outlook.
When we learn about this feature at first, it seems like everything is going to be very easy but it is not.
This is not a foolproof method to recall any sent email message but just an option whose output depends upon a number of conditions such as:
SUCCESSFUL CASE:
You send a mail and then try to recall it. If the recipient has not read the mail yet, it'll be deleted or replaced as per your settings.
You send a mail and then try to recall it. If the recipient reads the replaced mail first, the original message will be deleted otherwise recall will fail. Both copies will be sent if AUTOMATICALLY PROCESS MEETING REQUESTS AND RESPONSES TO MEETING REQUESTS AND POLLS is not selected.
The recall mail procedure will fail if
ALREADY OPENED MAILS: If any original mail has already been opened, it can't be recalled.
DIFFERNT DOMAINS: Your recallling will work only for the emails working on MICROSOFT EXCHANGE and the mails within the same organization. It won't work in different email clients or between the accounts who doesn't belong to the same organization or group.
PUBLIC FOLDER: The mail goes to a PUBLIC FOLDER and somebody has read the mail before your recalling.
REDIRECTED MESSAGES: If the recipient has created any rule to divert your messages to other folder, your recalling will fail.
I AM NOT ABLE TO RECALL MAIL IN OUTLOOK.
Have you sent mail to a different client like gmail, yahoo or any other.
Recalling will work only for OUTLOOK mails within any organization and mails on microsoft exchange.
I CAN'T FIND MAIL RECALL OPTION IN WEB OUTLOOK
You need to have outlook application to use this option. Recalling option is not available on outlook for web.