INTRODUCTION
The options to hide the gridlines, formula bar and headings (column name and row number) gives us a flexibility to show or hide the same as per requirement.
BUTTON LOCATION FOR SHOW/HIDE IN EXCEL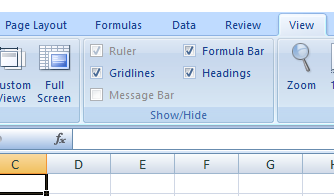 STEPS TO SHOW/HIDE IN EXCEL
GRID LINES-When checked will show the grid lines in Excel.
FORMULA BAR– When Checked FORMULA BAR ( the space where we put the formula) will be shown.
HEADINGS– When Checked HEADINGS (Row numbers and Column Names) will be shown.
UNCHECK ALL FOR HIDING ALL THE GRIDLINES, FORMULA BAR AND HEADINGS.