INTRODUCTION
In this article we'll learn how we can set the print area in the microsoft Excel.
After we have prepared our reports, most of the time we go for a print. But if you work with Excel , you must have felt that printing the sheet in a proper page is a tricky task many times. So in this article, we'll learn how we can set the print area in Excel.
"SETTING PRINT AREA" is an option of setting the printing area as per need.
BUTTON LOCATION TO SET PRINT AREA IN EXCEL
The button location for the SETTING PRINT AREA is shown below in the picture.
The button for setting the print area is found under the PAGE LAYOUT TAB under PAGE SET UP section and inside the menu showed by the button named PRINT AREA.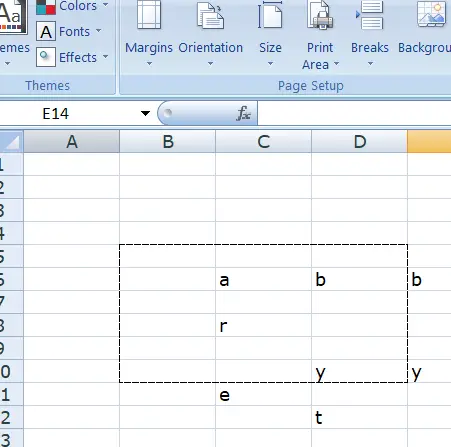 The picture shows the different portions shown by different letters.
We have selected an area and clicked SET PRINT AREA. In the picture, check out the abry area inside the dotted line rectangle. It is the selected print area.
If we print it, only the selected portion will be printed.
STEPS TO SET PRINT AREA
Just select the area and click on SET PRINT AREA.
CLICK ON CLEAR PRINT AREA to clear the print area.
ANIMATED EXAMPLE OF SETTING PRINT AREA
Explanation
The animated picture shows the different steps needed to set the print area.
We select the area and go to PAGE LAYOUT TAB and click PRINT AREA button under which we click the SET PRINT AREA button and the job is done.
Now we can print this area.