Table of Contents
INTRODUCTION
The View tab of excel has many subgroups like workbook view, Show/hide, Zoom, windows and Macros, which specially deals with layouts, showing or hiding line numbers, column names etc. freezing panes, freezing top rows and Macros.
The print options in excel are a bit tricky as Excel doesn't have clear page boundary as we have in the Word. It makes it very necessary for us to be proficient in setting the print options in Excel.
Page Layout is one of the features which help us to set and preview the print of the sheet.
PAGE LAYOUT mainly deals with the setting of the page ready for printing like setting the orientation, setting margins etc. which we will discuss in this article.
WHAT IS PAGE LAYOUT OPTION IN EXCEL?
PAGE LAYOUT option shows the sheet in the form of pages which will be printed if we opt for printing.

Page Layout option will show all the headers and footers, page separations just like the way it'll be printed.

WHAT CAN WE DO IN THE PAGE LAYOUT STATE OF EXCEL?
In the PAGE LAYOUT, we can perform a number of operations directly.
For example
Directly enter the Headers or Footers. Headers space is editable in the page layout. Footers space is also editable which you can edit directly.
Hold the rulers directly and set the margins visually.
Visually check if your print preview is correct and as per requirement or not.


BUTTON LOCATION FOR PAGE LAYOUT IN EXCEL
You can find the PAGE LAYOUT option under the VIEW TAB under workbook views section.
The following picture shows the location.
STEPS TO SET PAGE LAYOUT IN EXCEL
Follow the steps to activate PAGE LAYOUT WORKBOOK VIEW.
Go to VIEW TAB.
Activate the PAGE LAYOUT WORKBOOK VIEW by going to VIEW TAB>PAGE LAYOUT.
The PAGE LAYOUT VIEW will be activated.
As soon as the button is clicked, the normal sheet divides itself into different pages.
The margins can be set by dragging the cursor on the ruler.
If header is to be added , just click on the message "Click here to Add header
Similarly if Footer is to be added, just click on the message "Click here to Add footer". The Header and Footer insertion can be read HERE.
Click NORMAL to get back to normal view of full worksheet.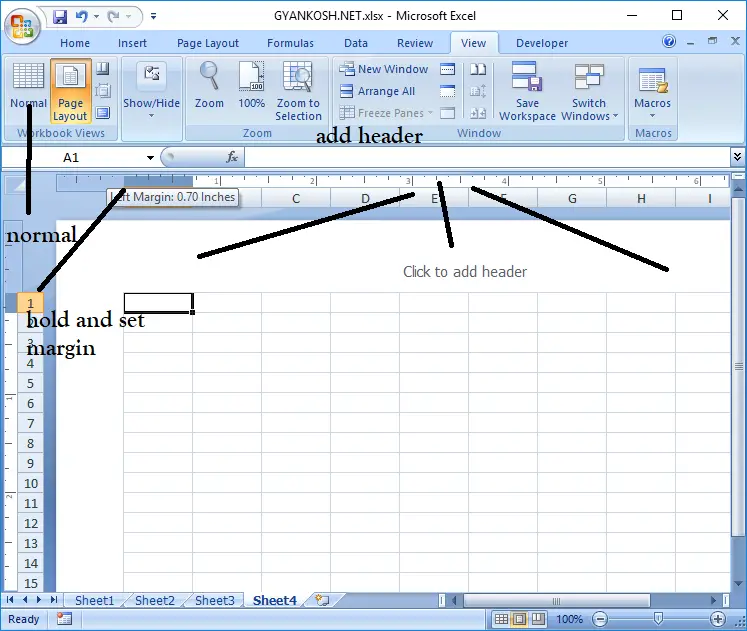 This is the way to activate and use the PAGE LAYOUT view.