INTRODUCTION
In Excel Review Tab, we have many different functions like spell check, researching , thesaurus and translation function. These were already discussed in the previous post HOW TO USE RESEARCH, THESAURUS AND TRANSLATION IN EXCEL?
In the same TAB few more functions are also present. The comments and protecting the worksheet against any kind of change in data.This article deals with the protection of the sheet.
BUTTON LOCATION FOR PROTECT AND UNPROTECT SHEET IN EXCEL
The OPTIONS for PROTECTING AND UNPROTECTING sheets are found under the REVIEW tab in CHANGES subsection as shown in the picture.

STEPS TO PROTECT IN EXCEL-PROTECT SHEET
It gives the option of providing the access to specific function and protecting it with the help of a password.
The actions available can be chosen from the given list and a password can be given to protect it.

STEPS:
click PROTECT SHEET. The following dialog box will open.
Choose a password.
Choose all the functions by clicking the checkbox, which you want to be allowed to users.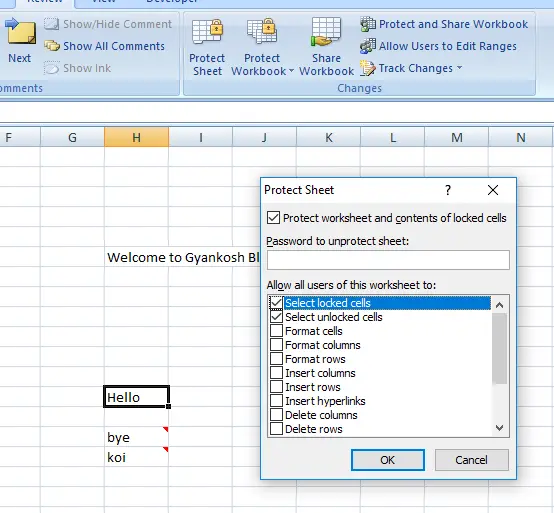 STEPS TO PROTECT WORKBOOK
Protect Structure and Windows protects the structure of the workbook by avoiding the moving, deleting etc. of the sheets. Permission is restricted by the use of LIVE ID etc. which won't be discussed here.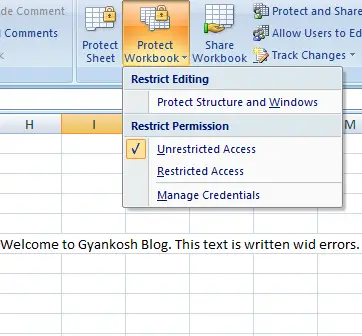 STEPS TO SHARE WORKBOOK
If the workbook is put in a network location, Many users can work on the same workbook at the same time. This permission can be given by the use of this option.
STEPS:
Click Share Workbook.
Click Checkbox to allow users to work on the workbook.
ADDITIONAL OPTIONS TO PROTECT CHANGES IN WORKBOOK
PROTECT AND SHARE WORKBOOK:
This option gives the option of sharing the workbook with a password and tracking option. Tracking is done of the changes made by the users.
ALLOW USERS TO EDIT RANGES:
This option allows the user to give the range where the editing can be done. Click NEW and choose the range.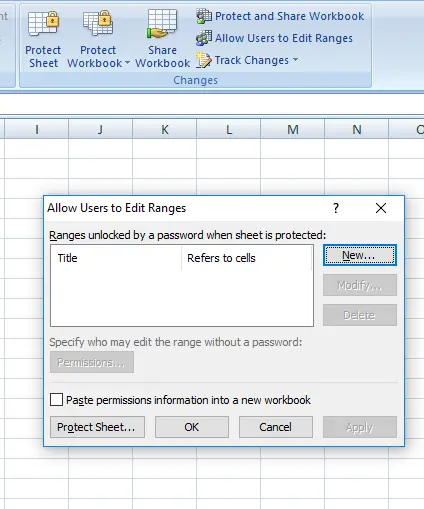 TRACK CHANGES DONE TO A WORKSHEET:
In a shared workbook, this option allows to check the changes done by the USERS.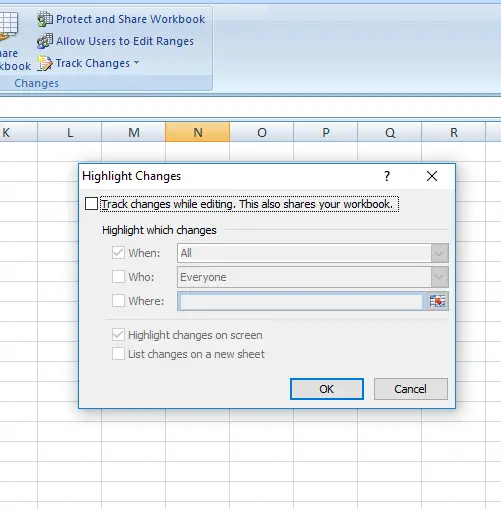 STEPS:
Select "Track changes while editing…".
Highlight can be done as per the available choices, When, Who and Where.