Table of Contents
INTRODUCTION
All of us have entered text in a cell by selecting the cell and simply typing the text in it. This is character-level typing and will be taken in parallel with other numbers entered in the cell.
 Now, think of a scenario, where you want to insert a totally separate space for some custom text, which can be a comment or any other information which you want to put in a space where it is not possible while using the cells of the sheet.
The textBox is the solution to these issues.
In this case, we can make use of the text box function.
"TEXTBOX"  is drawn anywhere in the sheet we need to put the text. It can be drawn anywhere in the sheet. Although text can be put in the cells also but putting the text in box gives us the privilege of making the text have more styles and options.


WHAT IS A TEXT BOX IN EXCEL ?
A text box can be understood simply as
A SEPARATE SPACE FOR TEXT WHICH CAN BE PUT AT ANY PLACE IN THE SHEET, CAN BE ROTATED, GIVEN COLOR, CHANGED FONT AND BEHAVE AS A COMPLETE SEPARATE ENTITY FROM THE SHEET.
A sample text box is shown below in the picture.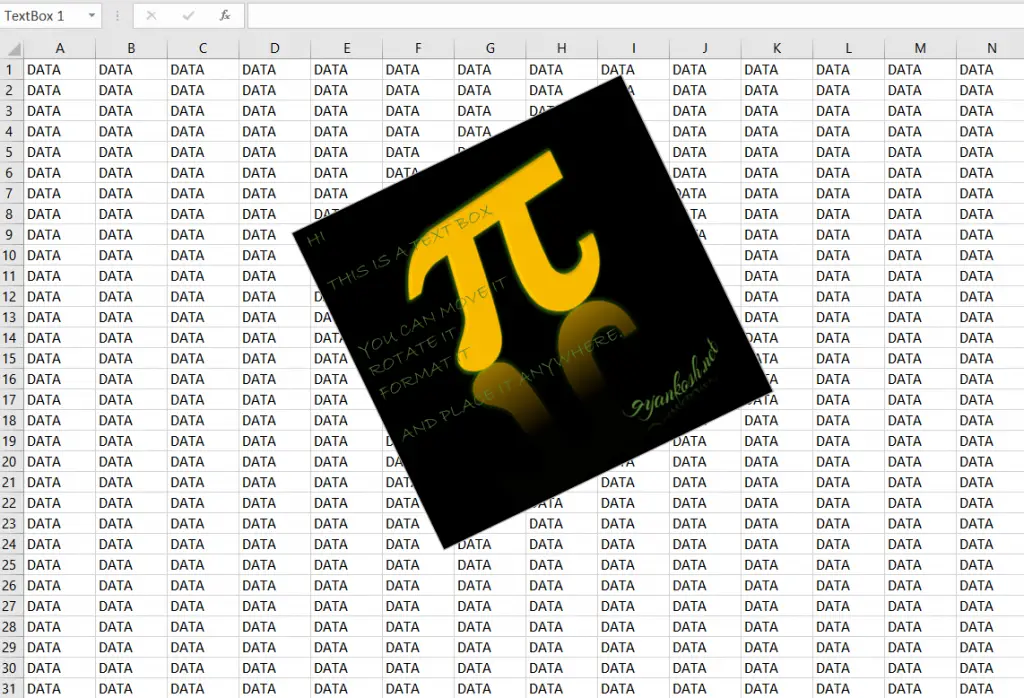 You can see in the picture above where a small text box has been placed, with a pictorial background, text written in it, and rotated.
The same sheet can be printed easily whenever needed.
LEARN PRINTING A SHEET IN EXCEL HERE.


WHEN TO USE A TEXT BOX IN EXCEL ?
We should use a text box in excel when we
Need to enter a separate text and place it at a place other than inside a cell.
Need a text which you want to move easily. We can move the text box anywhere without bothering to cut, paste or delete and re enter the text anywhere.


WHERE IS BUTTON LOCATION FOR INSERTION OF TEXT BOX IN EXCEL ?
The button or option location for inserting a text box is present under the INSERT TAB under the TEXT SECTION as shown in the picture below.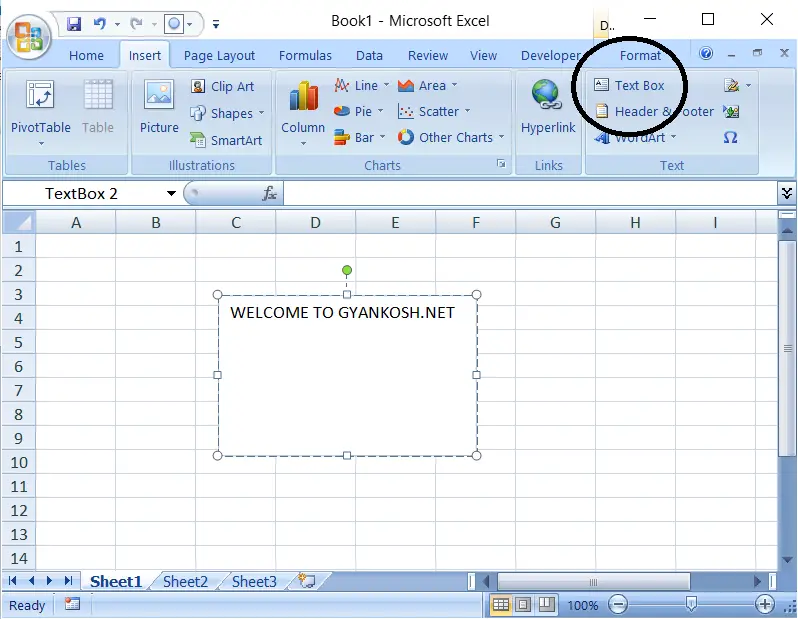 HOW TO INSERT TEXTBOX IN EXCEL?
STEPS TO INSERT A TEXT BOX IN EXCEL :
Go to INSERT TAB >TEXT SECTION and click TEXTBOX.
Click anywhere on the sheet , press left click and drag the mouse and a rectangle will appear.
Release the click when you get the size you want.
 The animated picture below shows the process.
So, in the picture above, we can see that a text box has been created.