Table of Contents
INTRODUCTION
We use text, numbers and graphics to create reports in MS Excel.
Although, the text is not extensively used in excel sheets but even then there are always chances for mistakes to happen in the text. It might be because of typing error or anything else.
But nobody loves mistakes either mathematical or textual.
So, for the spelling mistakes, we have a built in option which we can use after we have created our reports, known as SPELL CHECK.
Excel provides this function to do a final check on the textual part for any errors.


WHERE TO FIND BUTTON LOCATION FOR APPLYING SPELL CHECK IN EXCEL ?
You can find the SPELL CHECK option under the REVIEW TAB on the left portion of the ribbon under the PROOFING subsection.

STEPS TO SPELL CHECK IN EXCEL
Follow the steps to apply Spell Check on your sheet.
STEPS:
Select all the text which you want to spell check.
Go to REVIEW TAB.
Click SPELLING button.and click SPELL CHECK.
For our example , some text is written with errors and lets apply spell check on this.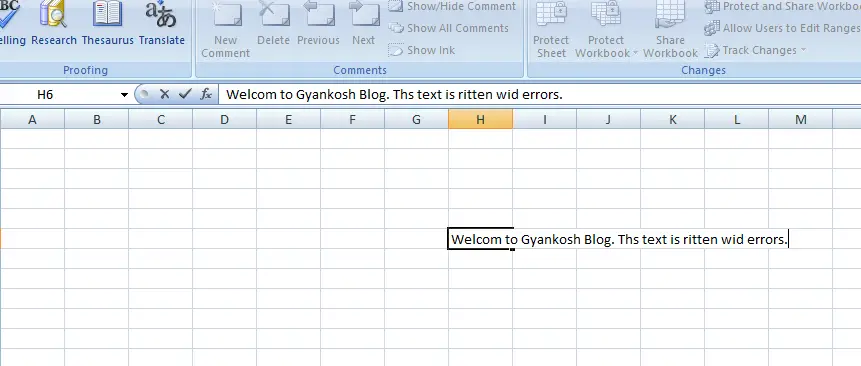 Select the cell and click SPELL CHECK button. The following screen will appear.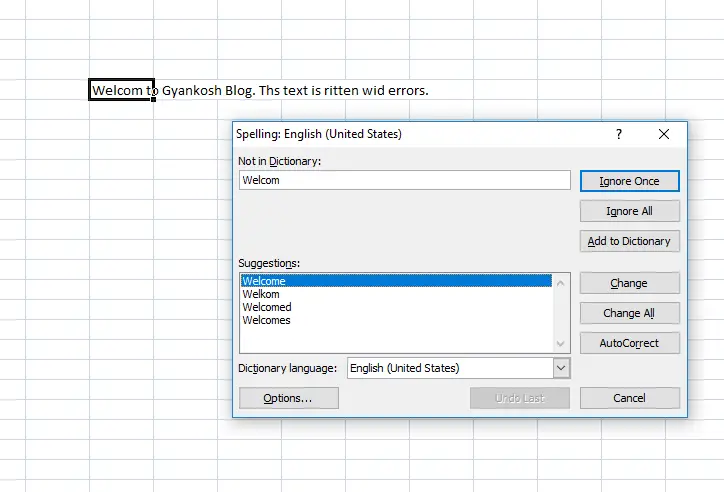 UNDERSTAND SPELL CHECK DIALOG BOX IN EXCEL
Ignore Once-Ignore the error. You know that the word exists.
Ignore All-Ignore all the errors.
Add to Dictionary– Add this word to dictionary. (It happens when you use any name of any word which is not present in the dictionary.)
Suggestions-Suggestions given by SPELL CHECKER. Any option can be selected and chosen.
Change-Click change to change the word with error with the selected one from Suggestions.
Change all– Change all the errors.
Auto Correct– It'll correct all the errors itself and won't ask one by one for the suggestion.
STEPS:
 Select the suggestion and click change or auto correct.
 The correction will be executed in the text and next error will show.
NOTE: When using the CHANGE command, the correction is not seen unless the checking is finished. When done, the changes will reflect.