Table of Contents
INTRODUCTION
Let us create our first web page with the HELLO WORLD phrase and after that the basic page structure will be discussed.
The steps go like this.
OPEN THE TEXT EDITOR.
TYPE OR COPY AND PASTE THE FOLLOWING CODE.
SAVE THE FILE WITH THE NAME helloworld.html
<HTML>
<BODY>
HELLO WORLD
</BODY>
</HTML>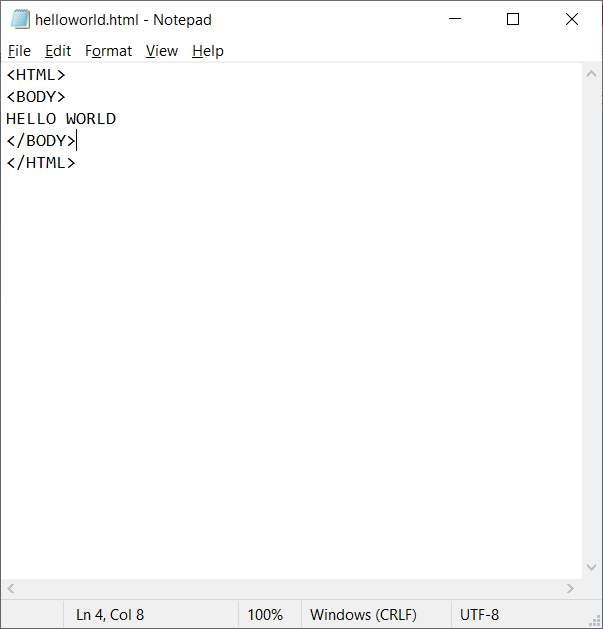 HTML-RUNNING HELLO WORLD PAGE
ONE SHOULD LEARN HTML IF:
Open the location of our saved "helloworld.html" file.
Double Click to run the file.
 The file will open in your default web browser.
The output will be as shown below.
HTML-UNDERSTANDING THE BASICS OF TAGS
Let us now understand the coding of the page and learn how the HTML is parsed by the web browser.
The text written in between <> is called TAG. The HTML works on the basis of TAGS.
As soon as any tag comes across, the browser takes it as a command to start that effect. The TAG is closed by </> notation.
e.g.
We started with <HTML>
and ended with </HTML>.


UNDERSTANDING THE TAGS OF THE " HELLO WORLD PAGE "
The HELLO WORLD page is very simple.
As already discussed, there are two TAGS used in this page.
HTML and BODY.
<HTML> tag is the outermost tag of any HTML FILE.
The content of the page starts from the <HTML> TAG AND ENDS AT </HTML> tag. 
<BODY> tag contains the content of the page, the content which will be shown in the page is in the <BODY> TAG.
Rest of the tags are discussed in next lessons.