Table of Contents
INTRODUCTION
FORMAT PAINTER in GOOGLE SHEETS is a utility given that is used to copy the format of the data contained in one cell to the other cell without the worry of searching for the format values and then setting it to the other cell within a fraction of a second.
FORMAT PAINTER IS A TOOL IN GOOGLE SHEETS TO COPY THE FORMAT SET FOR ONE CELL TO OTHER CELL OR CELLS WITH ONE CLICK.
FORMAT PAINTER is a very useful tool especially when we have gathered the content from various sources or reports.
It helps us to directly copy the Font of one content to the other directly.
Format is the size, color , font etc. properties of the text.


WHERE TO FIND THE OPTION TO USE FORMAT PAINTER IN GOOGLE SHEETS?
FORMAT PAINTER or PAINT FORMAT are different names of the same functionality.
The button location of FORMAT PAINTER is present on the standard toolbar.

WHAT ARE THE STEPS TO USE FORMAT PAINTER IN GOOGLE SHEETS?

Follow the steps to use format painter in Google Sheets.
Select the text, whose format you want to copy.
After selecting the text, click FORMAT PAINTER BUTTON.
Click the text where you want to copy the format.
The text's format will be exactly same as the one copied.
The following animated example shows the same process.


ANIMATED EXAMPLE TO USE FORMAT PAINTER IN GOOGLE SHEETS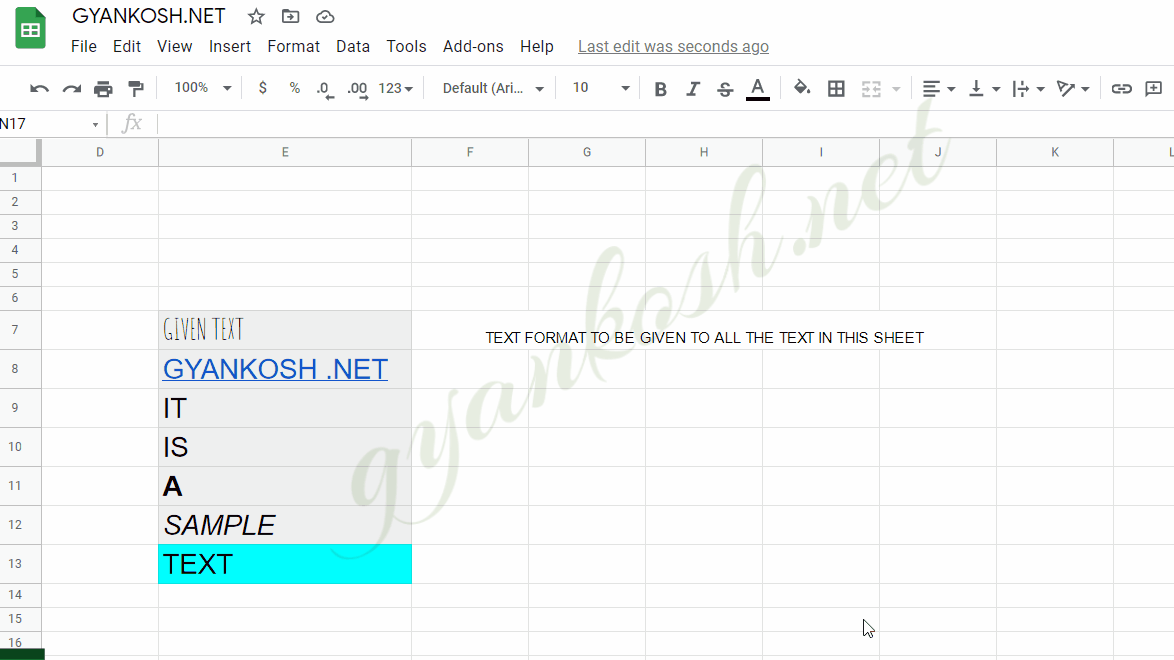 EXPLANATION
In the above mentioned example, there are two texts, current format and intended format.
We select the intended format(The format which is desired, the one which is already there) , click on FORMAT PAINTER and click the text whose format is to  be changed .
If we have a large text, after clicking the format painter button just select all the text and it'll be changed into the parent formatting.


HOW TO CHANGE THE FORMAT OF LARGE TEXT IN GOOGLE SHEETS
If we have a large text whose format is to be changed follow the steps.
Click the INTENDED FORMAT. [ THE FORMAT TO BE COPIED].
Click the FORMAT PAINTER button.
Without clicking anywhere, just select the complete text where we want to paste the format.
The complete text format will be changed.
The example above shows this working for the lower three rows.