INTRODUCTION

GOOGLE SHEET is gaining popularity exponentially due to many benefits it offers to its users.
One of the best GOOGLE SHEET benefits is its usage in sharing. Although this is available now in almost all the advanced spreadsheet software but even then , the ease and accuracy provided by GOOGLE SHEET is exceptional.
But , a situation may occur when we want the file to be emailed, or downloaded in a specific format in our PC.
In this article we would learn to email our sheet, download it in PDF FORMAT.



DIFFERENT FORMATS IN WHICH WE CAN DOWNLOAD GOOGLE SHEETS IN PC

MICROSOFT EXCEL is the torch bearer when we talk about the Spreadsheet softwares.
Microsoft Excel is one of the very old and renowned software and used world wide which makes it indispensable for all the new spreadsheets software to be able to save the EXCEL FORMAT [ .xlsx ].
GOOGLE SHEETS also have the ability to download the sheet in pc as Excel file.
In addition to this, Google sheets can save the file in various useful formats such as .PDF,  .ODS, .CSV, .TSV , HTML etc.
DOWNLOAD GOOGLE SHEETS AS .PDF FILE IN PC
Go to FILE> DOWNLOAD.
Choose PDF DOCUMENT (.pdf).

Downloading the file as pdf would take us to the settings similar to the PRINT SETTINGS. [ The settings which are asked when we are about to print a page ] as shown in the picture below.
DOWNLOAD GOOGLE SHEETS AS .XLSX MICROSOFT EXCEL FILE IN PC
Go to FILE> DOWNLOAD.
Choose MICROSOFT EXCEL (.xlsx).
PAPER SIZE : Select the output paper size. [ We are just printing the paper as pdf. ]
PAGE ORIENTATION: Select the page orientation. Use PORTRAIT if the height is greater than width. Use LANDSCAPE if width is greater than height.
SCALE: Scaling is used to directly increase or decrease the size of a page with a preset setting. For example, Fit to width, Fit to height etc.
FORMATTING OPTIONS: Formatting options give different options like HIDE OR SHOW GRIDLINES while saving as pdf, Show/Hide notes, Alignment etc.
HEADER AND FOOTERS : This option can be used to set any headers or footers before saving the file as pdf from google sheets.
Headers and footers provide many options which we can select to be saved as the header or footer in google sheets.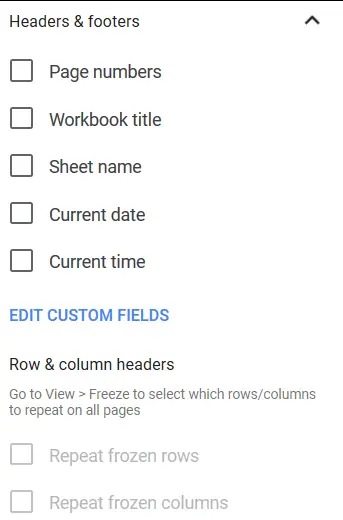 The option can be chosen from
Page numbers, workbook titles, sheet name , current date , current time or Frozen rows or columns can be repeated.
After selecting all the relevant options, click EXPORT on the right upper corner.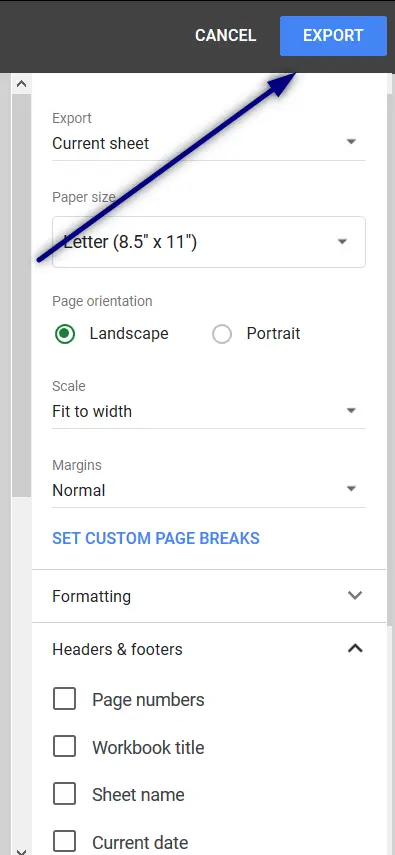 After clicking EXPORT, Save As dialog box will open as per the BROWSER. Right now we used MOZILLA FIREFOX.
The following save as dialog box will open.
Choose the location [ if asked for ].
Choose SAVE FILE.
Click OK.
The file will be saved as PDF at the desired location.