INTRODUCTION
The other day while working in Google Docs, just thought about typing using our voice, the same way we use many times using our mobile phones.
While searching for this, I came across the functionality which is available for Google Docs.
To help our visitors, we thought of creating a detailed article on the way to use this functionality to ease your typing task, which some people might find boring or tedious.
In this article, we'll learn to type using voice in google docs.


WHY TO TYPE USING VOICE IN GOOGLE DOCS ?
As we know GOOGLE DOCS is a word processor and we need to type a lot while making letters, drafts and other types of documents.
Many users are not comfortable with typing a lot or sometimes we don't want to type.
For all those situations, we can make use of this option.


HOW TO VOICE TYPE IN GOOGLE DOCS
The first and foremost point is that VOICE TYPING IS AVAILABLE ONLY IN GOOGLE CHROME.
STEP 1: GET GOOGLE CHROME [ SKIP THIS STEP IF YOU HAVE GOOGLE CHROME ]
So, if you don't have google chrome, download it now. It is a great browser.
CLICK HERE TO DOWNLOAD GOOGLE CHROME.
The link will take you to the GOOGLE CHROME download page.
After clicking the DOWNLOAD INSTALLER, the windows [ or your OPERATING SYSTEM] will ask you to save the installer.
Double Click the installer and it'll take you through the installation. [* You need an internet connection as some files will be downloaded while installation is being done ].
Go through the standard process of installation and CHROME is installed.
Double click the icon or menu option and open google chrome.
Open google docs and open your file.
STEP 2: START VOICE TYPING IN GOOGLE DOCS
We can find the option for voice typing under the TOOLS MENU in the menu bar of GOOGLE DOCS.
Click TOOLS MENU and choose VOICE TYPING as shown in the picture below.
As we click the VOICE TYPING option, a small icon as shown below.
Click the mic to start typing with your voice.
*MIC SHOULD BE THERE. THE MIC CAN BE DEDICATED OR BUILTIN.
As we click the button, the color of the voice button will change to RED as shown below.
The red button means, the chrome is listening.
Simply speak slowly and loudly so that google can type what you say.
Google docs will type whatever you say.
The following animation shows the process.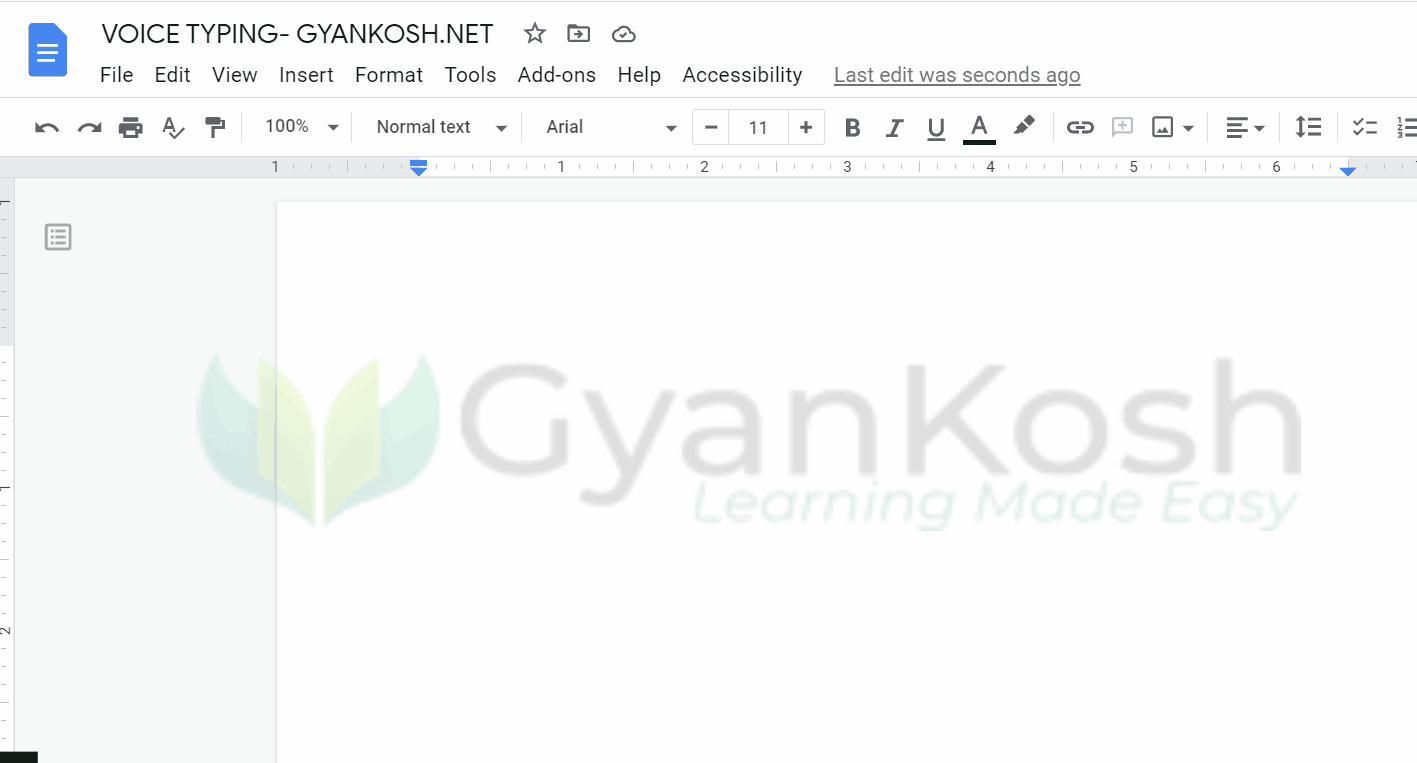 HOW TO CHANGE THE LANGUAGE FOR VOICE TYPING IN GOOGLE DOCS ?
We can easily change the language for voice typing in google docs.
Simply click on the LANGUAGE DROP DOWN and choose the language of your choice.
DIFFERENT ACTIONS WHICH WE CAN DO USING VOICE IN GOOGLE DOCS
In addition to the simple text typing, we can perform many other actions using the voice in GOOGLE DOCS.
SELECT TEXT
To select text, say these commands:
Select ………… [ word or any phrase e.g. Select Hello will select Hello ]
Select all
Select all matching text
Select list item
Select list items at current level
Select next character
Select next [number] characters
Select last character
Select last [number] characters
Select line
Select next line
Select next [number] lines
Select last line
Select last [number] lines
Select paragraph
Select next paragraph
Select next [number] paragraphs
Select last paragraph
Select last [number] paragraphs
Select word
Select next word
Select next [number] words
Select last word
Select last [number] words
Deselect
Unselect
Select none
FORMAT DOCUMENT
TEXT FORMATTING
Apply heading [1,2,3,4,5 or 6]
Apply normal text
Apply subtitle
Apply title
Bold
Italicize
Italics
Strikethrough
Subscript
Superscript
Underline
Uppercase
Title case
Lowercase
TEXT COLOR AND HIGHLIGHTING
Text color …….. [ e.g. Text color Red, Text color green etc. ]
Highlight
Highlight [color]
Background color [color]
Remove highlight
Remove background color
The available colors are :
red, red berry, orange, yellow, green, cyan, blue, cornflower blue, purple, magenta, black, white, and gray. For all colors except black and white, you can add "light" or "dark" along with numbers 1-3 (for gray, 1-4), such as "dark purple 3." If you say "highlight" by itself, the highlighting color is yellow.
FONT SIZE
Decrease font size
Increase font size
Font size [6-400]
Make bigger
Make smaller
PARAGRAPH FORMATTING
Decrease indent
Increase indent
Line spacing [1-100]
Line spacing double
Line spacing single
ALIGNMENT
Align center
Align justified
Align left
Align right
Center align
Left align
Right align
COLUMNS
Apply 1 column
Apply 2 columns
Apply 3 columns
Column options
Insert column break
LISTS
Create bulleted list
Create numbered list
Insert bullet
Insert number
REMOVE FORMATTING
Clear formatting
Remove formatting
Remove bold
Remove italics
Remove strikethrough
Remove underline
EDIT DOCUMENT
Copy
Cut
Paste
Delete
Delete last word
Delete [word or phrase]
Insert link [then say the URL you want to use]
Copy link
Delete link
Insert table of contents
Delete table of contents
Update table of contents
Insert comment [then say your comment]
Insert bookmark
Insert equation
Insert footer
Insert footnote
Insert header
Insert horizontal line
Insert page break
NOTE:
If you say "Delete" by itself, you delete the word before the cursor.
If you select the text of a URL and say "Insert link," the selected text becomes a hyperlink.
ADD OR EDIT TABLES
Insert table
Insert table [1-20] rows by [1-20] columns
Insert row
Insert column
Insert new column
Insert new column on the left
Insert new row
Insert new row above
Insert new row below
Delete column
Delete row
Delete table
Remove column
Remove row
Remove table
Exit table
MOVE CURSOR IN DOCUMENT
To move around your document, say these commands:
| Part 1 | Part 2 | Part 3 |
| --- | --- | --- |
| Example: Go to | end of | paragraph |
| Go to Move to | end of start of | paragraph column line row table document |
| Go to Move to | next previous | character column footnote formatting change heading heading [1-6] image line link list list item misspelling paragraph row table word page |
| Go Move | forward backward | [number] characters [number] words |
| Go Move | up down | [number] lines [number] paragraphs |
SCROLL
STOP VOICE TYPING
To stop voice typing, say "Stop listening."
RESUME VOICE TYPING
To move the cursor to the end of the paragraph and start voice typing again, say "Resume."
To move the cursor to the end of a particular word or phrase, say "Resume with [word or phrase]."
Here are all the commands you can say to resume voice typing:
Resume
Resume with [word or phrase]
Go to the end of the paragraph
Move to the end of the paragraph
Go to the end of the line
Move to the end of the line
Go to [word]
Commands to open help
To open a list of voice commands in your document, say these commands:
Voice typing help
Voice commands list
See all voice commands
Speak (for accessibility)
Speak cursor location
Speak from cursor location
Speak selection
Speak selection formatting
Speak table row and column headers
Speak table cell location
Speak table column header
Speak table row header
So, these were the commands which can be used in Google Docs.
NOTE: ALWAYS REMEMBER THAT WE NEED TO SPEAK THE COMMANDS SLOWLY AND THERE CAN ALWAYS BE MISTAKES. FOR CORRECTION, RIGHT CLICK CHOOSE THE RIGHT OPTION AND START AGAIN.