INTRODUCTION
LEN function comes under the TEXT category in Excel.
LEN function returns the total number of characters in a string.
LEN can be used if we need to check any entry in a cell.

PURPOSE OF LEN FUNCTION IN EXCEL
LEN FUNCTION returns the number of characters in a given string.

PREREQUISITES TO LEARN LEN
THERE ARE A FEW PREREQUISITES WHICH WILL ENABLE YOU TO UNDERSTAND THIS FUNCTION IN A BETTER WAY.
 Basic understanding of how to use a formula or function.
 Basic understanding of rows and columns in Excel.
Some information about the financial terms is an advantage for the use of such formulas.
 Of course, Excel software.
Helpful links for the prerequisites mentioned above
What Excel does? How to use formula in Excel?
SYNTAX: LEN
The Syntax for the function is
=LEN(STRING)
STRING GIVEN TEXT
*SPACES ARE ALSO COUNTED AS CHARACTERS
EXAMPLE:LEN FUNCTION IN EXCEL
DATA SAMPLE
The string is "Once upon a time there was a king"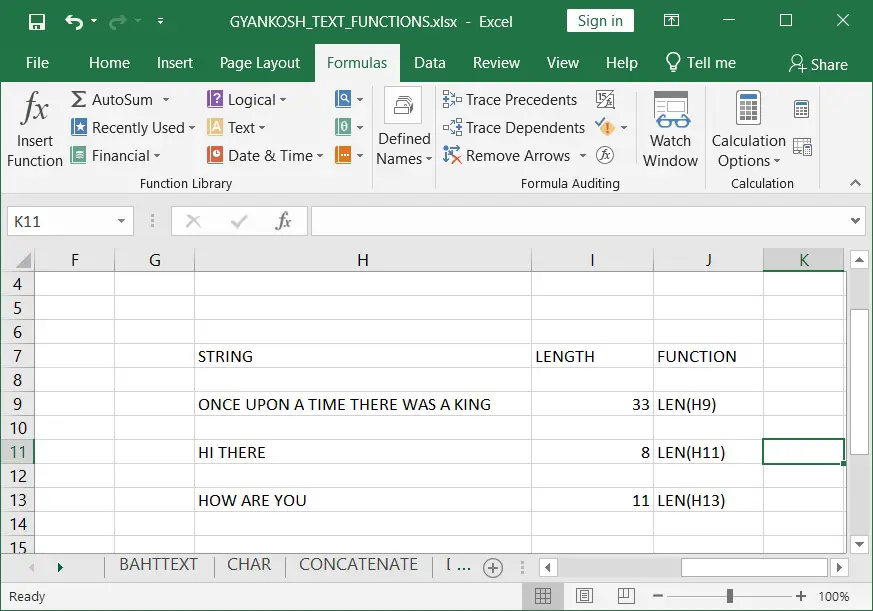 STEPS TO USE LEN FUNCTION
H9, H11 AND H13 are containing some Text fragments.
The length output has been shown in the corresponding I column. The functions used are
LEN(H9), LEN(H11) and LEN(H13).
The output is 33,8 and 11.
*The spaces are counted as characters too.
CONFUSION CLARIFICATION
CHARACTERS INVOLVED WHILE COUNTING
LEN function counts characters of a string.
LEN function counts all the characters including the SPACES.
Always take care of the fact while making use of this function.