Table of Contents
INTRODUCTION
LAPTOP or DESKTOP COMPUTER has become one of the essential requirement these days.
Computing has reached new heights with super fast development in this area. Every industrial, technical, educational , health or whatever area we think of, these systems have helped human being a lot.
Now, if we think of the use of laptop or desktop computer at home, they are of immense help for us.
Entertainment, work, email, plethora of information on internet, online web series, games and many more tasks can be done on a single device. But many people are much confused when they want to purchase any new laptop and always keep asking themselves SHOULD I BUY A LAPTOP OR DESKTOP for my home or office.
This article is created to help all the friends who are confused and need help regarding buying a new laptop or desktop computer.
The article discusses the specs, its meaning and other relevant information which will enable you to confidently purchase a new laptop or desktop computer.


WHAT IS A DESKTOP COMPUTER?
A desktop computer is the traditional computer which rests on the desk.
The picture shows a simple traditional desktop computer.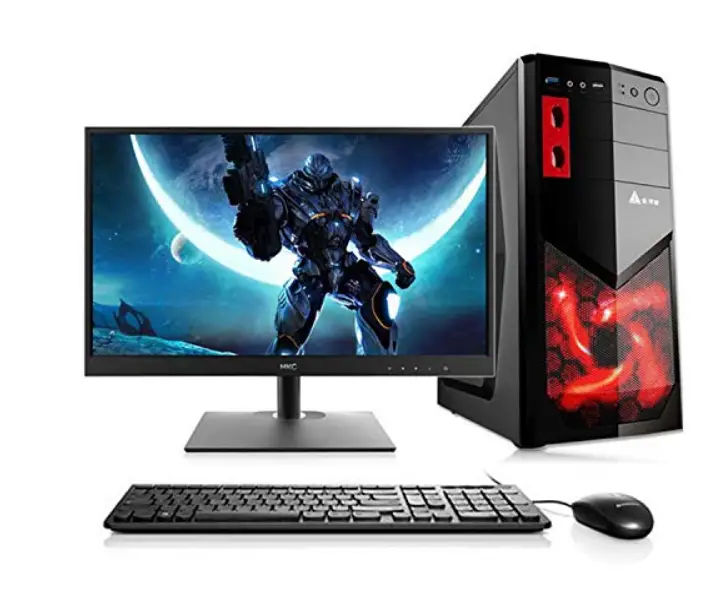 You can see the picture above.When desktop computers evolved , it all started with having separate compartments for the visual , processing and input and output devices.We generally have these parts in a desktop computer.
1. A Visual output. It can be an LED monitor, a traditional CRT monitor (which can be called as obsolete today).
2. A box containing the processors and all processing units known as CPU [ Central Processing Unit ].
3. A Keyboard and a mouse .These are the standard parts of a Standard Desktop Configuration.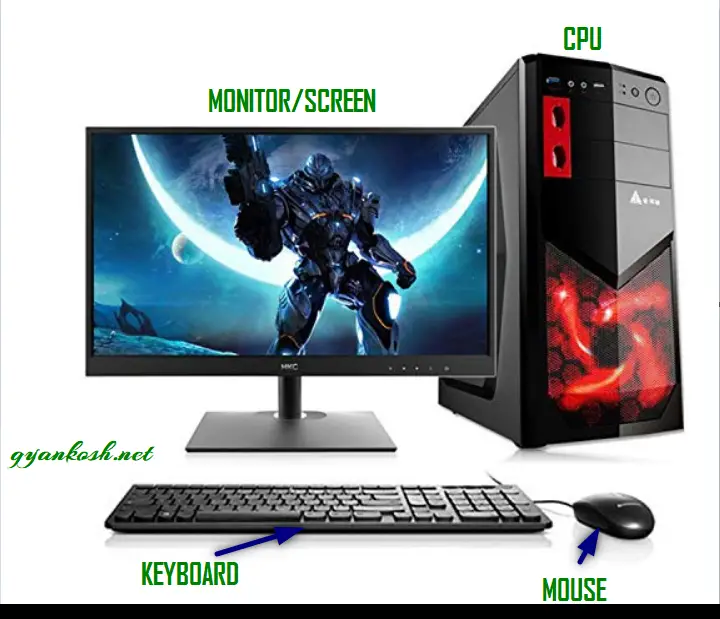 WHAT IS A LAPTOP?
A Laptop is a compact form of desktop computer with a notebook design which gives it a name NOTEBOOK too.
With the advancement of technology, the components were made sleek which enabled them to be put in a compact cabinet measure a few lbs only.
The laptop can be used in a lap, hence the name laptop. It looks like a notebook , which gives it another name NOTEBOOK PC or simply notebook.
The laptop looks like the one shown in the picture.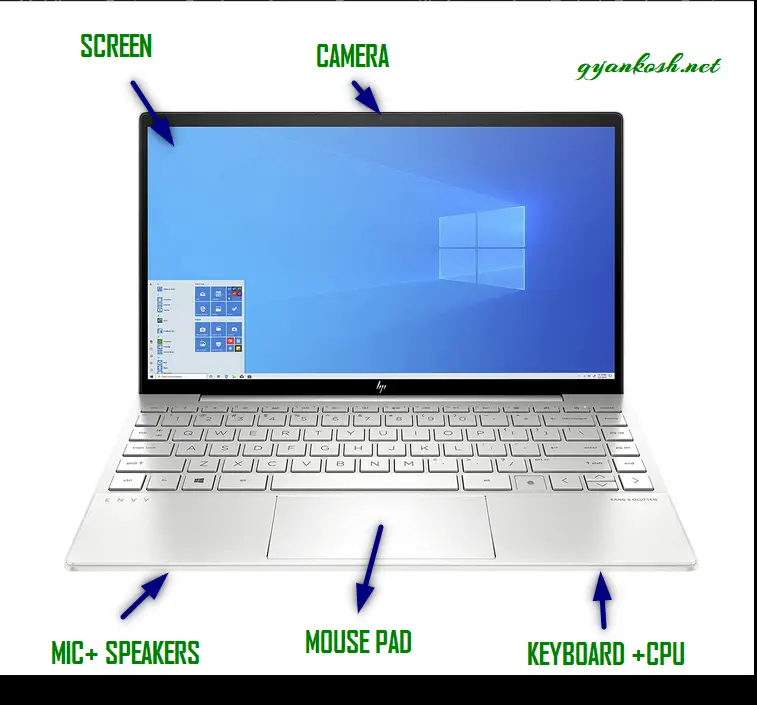 PARTS OF LAPTOP
A laptop primarily consist of two parts which look like the cover of a book joined with a hinge.Here are the different parts of the laptop.
SCREEN:
Picture above can be referred.
One part of the two main parts of a laptop or notebook computer is the screen which serves in place of the monitor in a desktop.
 CPU:
The second part of the laptop is CPU which contains the keyboard also on the same under which resides all the processing system of the laptop.
CAMERA:
Camera is already placed in the SCREEN itself if available.
MIC and SPEAKERS:
Mic and Speakers are also provided in the CPU itself if available.
MOUSE PAD:
No need of external mouse.
MOUSE PAD works the same way as mouse does and available on the CPU itself.
LAPTOP VS DESKTOP
Now, the first confusion before buying the computer is between a laptop and a desktop.As we know about laptop and desktop, let us find out a few facts which would help you in making the choice easier.
BENEFITS OF DESKTOP COMPUTER OVER LAPTOP COMPUTER
Now, the first confusion before buying the computer is between a laptop and a desktop.As we know about laptop and desktop, let us find out a few facts which would help you in making the choice easier. Go for the desktop if :-
YOU ARE OK WITH WORKING ON A DESK. With a desktop you 'll be bound to work on a desk all the time. You can not take your desktop with you easily due to its size and the different other parts.
YOU WANT TO ENJOY A BIGGER SCREEN :The desktop these days have made the standard for a 19 inch or 21 inch monitors which increase the good feel factor while using the desktops. The screens are of great quality and while sitting on the desk provides the appropriate distance for the usage which increases the eye comfort and makes the working easy.
 YOU DON'T NEED TO MOVE THE COMPUTER FREQUENTLY. Desktop is not so handy to be transferred here and there easily.
 YOU NEED BETTER SPECS IN LESS PRICE. If we compare a laptop computer with a desktop computer, we'd get the desktop computer with better specs in lesser price.
 YOU WANT TO HAVE THE OPTION TO UPGRADE YOUR COMPUTER. Desktops can be upgraded easily by buying additional memory, graphics card, storage etc.
YOU WANT A CHEAPER SERVICE AND REPAIRS. Desktop computers are cheaper both in case of service or repairs.
 YOU ARE OK WITH MESSY WIRES. If you want to have a mouse, camera , mic etc. you need separate devices which create a mess of wires.


BENEFITS OF LAPTOP OVER DESKTOP COMPUTER
Go for a LAPTOP if :
YOU WANT A PORTABLE COMPUTER. Laptop or notebook pc is highly portable. You can pack it up in a bag and take it anywhere. It has an embedded battery which enables you to work for a few hours even without the availability of power.
YOU WANT A PC WITH LESSER FOOTPRINT. Laptops are very compact. Mic, Camera, Mouse are already embedded on the body. We don't need anything from the outside except a power source.
YOU DON'T MIND KEEPING THE SAME SPECS OVER A PERIOD OF TIME. Although a few components of a laptop can be upgraded, any major upgradation is not possible.
 YOU DON'T WANT A PC ALWAYS LYING ON A TABLE. Laptop can be folded and put in a bag inside a closet. Whereas a desktop system would always lie on the table which will occupy some space in your house.


CONCLUSION
We have already discussed the features of a desktop and a laptop computer and their benefits over the other.
We have to make a decision here whether we want to go for a desktop pc or a laptop.
THE MAJOR DIFFERENCE BETWEEN A DESKTOP COMPUTER AND A LAPTOP OR NOTEBOOK COMPUTER IS THE PORTABILITY.
After we have made a choice between a desktop computer and a laptop, it is time to understand the specifications (specs) on the basis of which we are going to make a choice.
HOW TO CHOOSE THE SPECIFICATIONS OF A DESKTOP OR LAPTOP
TYPE OF SCREEN
Other than the standard TFT screen or IPS Panel, OLED screen is something which is being offerred by many laptops these days.
OLED is ORGANIC LED screen which offers crisp and vibrant colors . It almost represents pictch blacks and beautiful colors which makes it the best screen available in the market today.
So , if you can afford, go for the OLED panel.
After OLED panel, IPS panel comes second in the vision quality of the screens followed by simple TFT screen.


SCREEN SIZE
The first criteria of choosing a computer is the screen size.
The screen size of the screens are specified in INCHES in diagonal.
The following picture shows the measurement of the screen.
THE DECENT SIZE OF A LAPTOP SCREEN IS 15.6 INCH. LESSER THAN 15.6 INCH STARTS FEELING A BIT SMALLER AND LARGER THAN 15.6 INCH [ THESE DAYS 17 INCH LAPTOPS ARE ALSO IN THE MARKET ] ARE A BIT BIGGER IN SIZE IF WE THINK OF USING A LAPTOP PROPERLY.
The size of the screen should be such that it doesn't hurt our eyes or stress our eyes.
IF THE SCREEN IS TOO SMALL, WE'D NEED TO KEEP IT VERY CLOSE TO THE EYES AND DUE TO SMALLER LETTERS AND GRAPHICS, IT'LL STRESS OUR EYES.
IF THE SCREEN SIZE IS TOO BIG, IT'LL BE NOT EASY TO SEE THE SCREEN IN A SINGLE FRAME [ THE AREA WHICH IS SEEN BY THE EYES COMFORTABLY ] AND THE BRIGHTNESS WILL CAUSE STRESS TO THE EYES.
THE IDEAL SIZE FOR THE SCREEN OF A DESKTOP OR ALL IN ONE PC IS 19 INCH OR 21 INCH. 17 INCH IS ALSO POPULAR BUT THAT'LL BE A BIT SMALLER. THE GOOD THING ABOUT DESKTOP SCREEN IS THAT WE CAN INCREASE THE DISTANCE BETWEEN THE EYES AND THE SCREEN EASILY WHEREAS WE HAVE KEYBOARD IN OUR HANDS WHICH IS NOT THE CASE WITH THE LAPTOP.
PROCESSOR
Processor is the heart of cpu. A processor is the device which makes all the processing in the computer right from taking the input upto giving you the output on the screen.
PROCESSOR WITH HIGHER SPEED AND LATEST TECHNOLOGY IS ALWAYS BETTER . BUT AS THE TECHNOLOGY AND STRENGTH GOES HIGHER, SO DOES THE PRICE. CHOOSING THE PROCESSOR IS BASED ON YOUR BUDGET.
TWO MAJOR BRANDS for the reliable processors are INTEL and AMD
FOR INTEL PROCESSOR:
INTEL PROCESSORS are going with generations these days like Tenth generation is the latest.
Generation is further divided in CORE I3, CORE I5 and CORE I7 and sometimes I9 also.
Higher the number , better the speed.
The speed or known as CLOCK SPEED is the measurement for the processors given in Giga Hertz.
More the speed, better the processors.
Now the decision can be done as
Performance of
10th Gen I7> 10th Gen I5 >10 Gen I3
Same with all the generations.
For the different generations
we can choose like
If we have 9th and 10th generations
we can decide like
10th Gen I5 can be somewhere equal to 9th Gen I7 so we can choose as per the budget.
Similarly older gen I5 can be compared to the new generation I3.
AMD PROCESSORS
The parameters for the processors are same.
It has Ryzen series and Athlon series. The same parameters can be checked for AMD also.


RAM [ RANDOM ACCESS MEMORY ]
RANDOM ACCESS MEMORY OR SIMPLY MEMORY IS ANOTHER CORE SPEC WHICH NEEDS TO BE LOOKED AT BEFORE WE BUY A NEW DESKTOP OR LAPTOP.
RAM SHOULD BE AS HIGH AS POSSIBLE ACCORDING TO THE BUDGET.
RAM OR MEMORY HELPS THE COMPUTER STORE TEMPORARY DATA AND ACCESS IT AS PER REQUIREMENT.
When a computer is working, a lot of storage is needed for opening the programs, using them, browsing the internet and so on, this temporary memory is stored in RAM.
HIGHER RAM WILL ENABLE US TO OPEN MANY PROGRAMS AT THE SAME TIME AND AVOID HANGING OF THE COMPUTER. LESSER RAM WILL MAKE THE COMPUTER HANG , IF WE TRY TO OPEN A FEW PROGRAMS AT THE SAME TIME.
Greater than 4 GB of RAM is recommended.


STORAGE [ HARD DISK]
STORAGE is the part of the computer which stores the data permanently.
The storages these days comes GBs. Higher the storage, more space you have to store your data i.e. files, music, videos, programs etc.
Two types of Storage are available these days.
Traditional HDD [ Hard disc drive] and SSD [ Solid State Drive ].
SSD is expensive in comparison with HDD.
SSD HAS HIGHER SPEEDS OF DATA TRANSFER IN COMPARISON WITH HDD. SSD DOESN'T HAVE ANY ROTATING PARTS. SSD IS MORE EXPENSIVE THAN HDD. IT IS SOLELY THE CHOICE OF THE USER TO CHOOSE FROM BOTH ON THE BASIS OF BUDGET.
BENEFITS OF SSD OVER HDD ARE:
Faster
No moving parts
Faster loading and booting of PC. [ I mean really fast. You'll feel significant difference in the loading times ]
But failure rate is a bit higher as of now. [ Two of my SSDs failed over two years]
BENEFITS OF HDD OVER SSD:
Cheaper
A proven technology already in use for years.
If you avoid physical damage, it'll store your data for years.
STORAGE OF ATLEAST 512 GB IS RECOMMENDED THESE DAYS.


GRAPHICS CARD
GRAPHICS CARD is a separate processor to process the graphics in the computer.The result is – Better handling of the programs which are graphics intensive such as games.Two types of graphics cards are mentioned in the specs.
Integrated Graphics Card – Embedded with the processor itself. Able to handle normal graphics required for multimedia and day to day tasks. Cheaper.
Dedicated Graphics Card such as NVIDIA or AMD RADEON and so on. Dedicated processor and memory. Able to handle extreme Graphics intensive games and programs in addition to day to day multimedia usage. Expensive as per the specifications.
BUY A COMPUTER WITH DEDICATED GRAPHICS CARD ONLY IF YOU HAVE THE REQUIREMENT OF GAMING OR PROGRAMS WHICH NEEDS SPECIAL GRAPHICS CAPABILITY SUCH AS 3D DESIGNING ETC. IF YOU HAVE NO SUCH REQUIREMENT THERE IS NO NEED FOR DEDICATED GRAPHICS CARD.
OPTICAL DRIVE
CD OR DVD DRIVES are known as optical drives.
These drives are almost obsolete and maximum laptop or computer models are skipping them as better storage devices are in market such as usb drives and portable hard disks etc.
Even then if there is any specific need, only then they should be opted otherwise no specific need is there.


OPERATING SYSTEM
Now, when almost all the hardware specs we have discussed, it is time now to know a bit about the OPERATING SYSTEM.
The operating system is the software which is the interface between the hardware and the user.
COMPUTER OR LAPTOP both comes with a operating system these days.
The OS can  be WINDOWS, APPLE  MAC OS , LINUX, CHROME, DOS etc.
ALWAYS OPT FOR A USER FRIENDLY OPERATING SYSTEM SUCH AS WINDOWS OR MAC. Other OS are requirement specific although they are trying hard to become user friendly and easy to  use but still nowhere close to the standard OPERATING SYSTEMS.
LATEST OPERATING SYSTEM IS ALWAYS PREFERABLE.
ALWAYS TRY TO GET AN OS PREINSTALLED AS IF YOU BUY OPERATING SYSTEM FROM THE OPEN MARKET, IT'LL BE COSTLY AND THE CHANCE OF FAKE OS ARE ALSO HIGH.


BATTERY
Battery is a part of the laptop and not provided in a desktop.
Battery is required for the ability of the laptop to work for a few hours without the power.
The rating of the battery is given as Wh [ Read as Watt Hours ]
HIGHER THE BATTERY CAPACITY , LONGER THE RUNNING TIME OF THE LAPTOP. BUT ON THE SAME TIME, HIGHER THE BATTERY, MORE THE WEIGHT OF THE LAPTOP.
Choose your battery by keeping these points in notice.


CONCLUSION
These were the different parameters which can be taken care before we decide to buy a laptop or a computer.
Now, there are a few more terms which are used these days a lot. Let us discuss those too.
THE HARDWARE SPECIFICATIONS REMAIN THE SAME FOR LAPTOP OR DESKTOP OR THE OTHER TYPES WHICH ARE ABOUT TO BE DISCUSSED NOW.


FAQs
WHAT IS ALL IN ONE DESKTOP?
INTRODUCTION
ONE OF THE BAD COMING IN THE DESKTOP WAS THAT IT HAS A NUMBER OF SEPARATE PARTS SUCH AS A SCREEN, A CPU BOX , KEYBOARDS AND MOUSE.
With the advancement of the technologies ALL IN ONE PC or ALL IN ONE DESKTOP, whatever name you use, were introduced.
ALL IN ONE PC IS A PC WITH CPU AND OTHER PROCESSING PARTS EMBEDDED IN THE SCREEN ITSELF. IT ONLY HAVE A SCREEN CONTAINING THE CPU ALSO, A KEYBOARD AND A MOUSE. CAMERA, MIC ETC. TOO PUT ON THE SAME BODY.
This type of PC takes care of the mess of wires but still the size of the PC is big which disqualify it to be handy or portable.LAPTOP still remains the first choice if you want a full powered portable machine.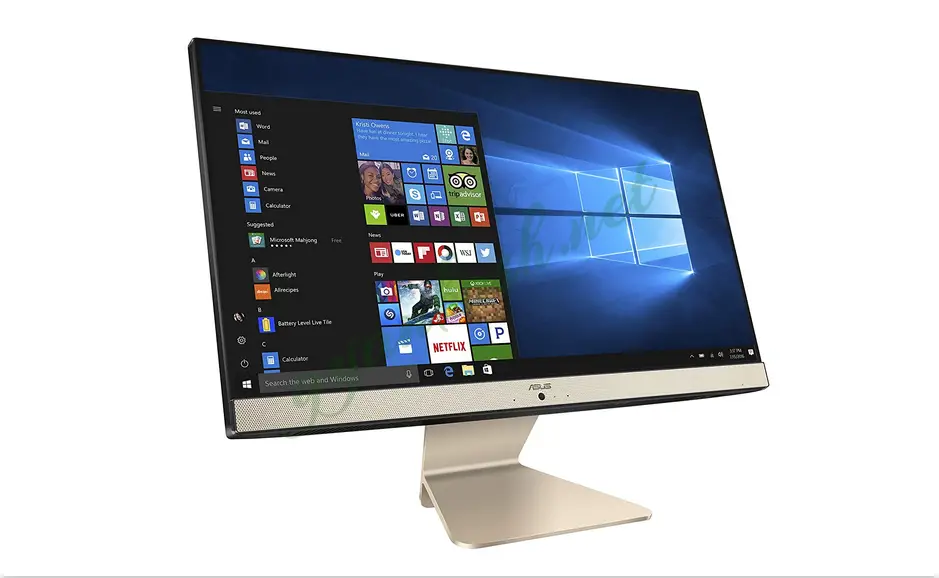 PROS AND CONS OF ALL IN ONE DESKTOP PC
PROS:
Screen , CPU, Camera, Mic , Optical Drive [ If available ], Ports all put on the same body behind the screen. Just one wire for the power, and two for the keyboard and mouse. [ Keyboard and mouse wire can be removed by choosing the wireless keyboard and mouse.]
Bigger Screen Size.
Good quality Screens.
Distance between the screen and eyes can be adjusted as per requirement.
Perfect computing feelgood factor.
CONS:
Even after reducing much of the mess of wires and a complete CPU unit , it is still bulky and can't be moved easily.
Not portable.
Doesn't contain a battery so can't be used in a place where there is no power source, even for a second.
WHAT IS 2 IN 1 CONVERTIBLE LAPTOP?
INTRODUCTION
A new option for the LAPTOP USERS have emerged as a 2 IN 1 CONVERTIBLE LAPTOP.
A CONVERTIBLE 2 IN 1 LAPTOP is the one with a TOUCH SCREEN [ The screen of the laptop is touch enabled ] with the feature of rotating the keyboard 360 degrees to make it look and work like a TAB.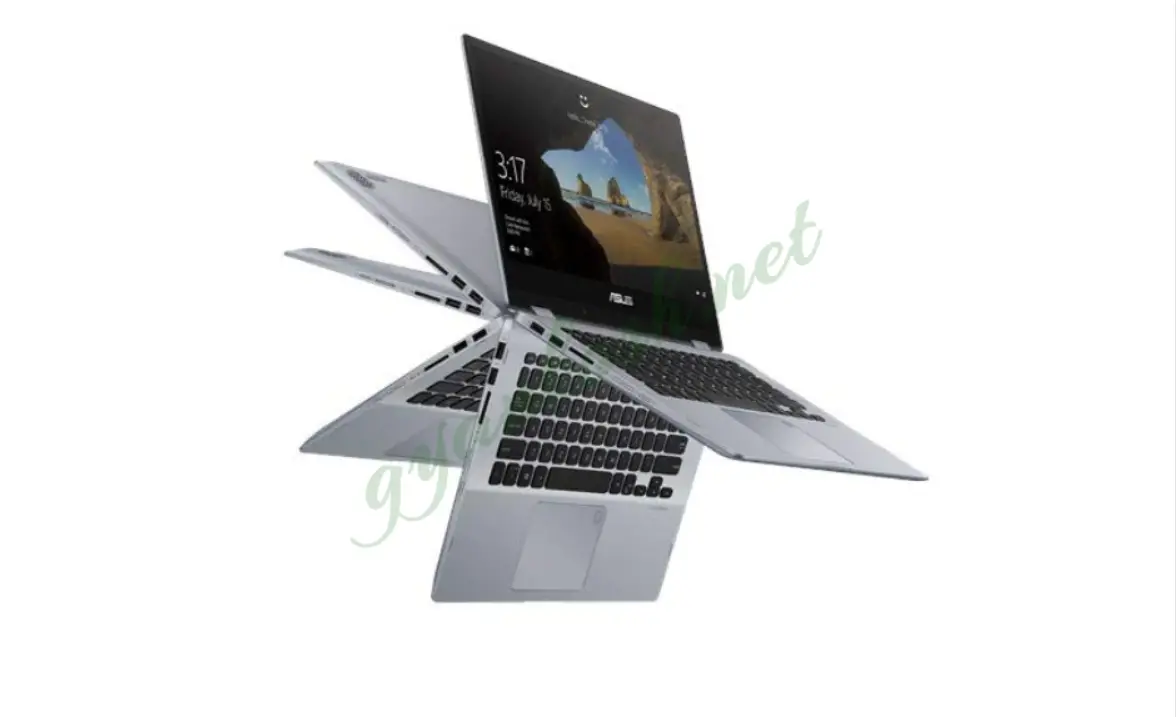 PROS AND CONS OF 2 IN 1 CONVERTIBLE LAPTOP
PROS:
You get a laptop pc as well as a tab in the same price.
 If you like to control the screen with a touch rather than a mouse, this option can work for you.
CONS:
Although, this laptop can be used as a tab but the weight of the laptop is not that of a tab [ Laptop Weight is higher in comparison with that of a tab ]. So , practically it is not possible to use this 2 in 1 convertible as a TAB for a longer time, means it is not a practical option.
The feature of having a touch screen has to be paid for. This amount can be used for any other upgradation in the computer or laptop.
Get this feature only, if you really think of using it, otherwise go for a TAB.